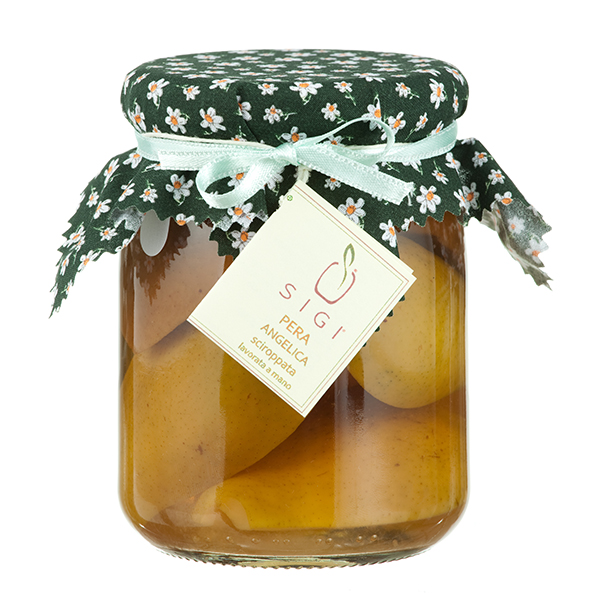 Angelica Pear in syrup
The Angelica Pear is a traditional fruit from the Marche region. Hand cored and cut in half it is
preserved in a natural syrup, making a perfect dessert dish with its natural delicate flavour.
GLUTEN FREE
No Dyes, No Preservatives, No Chemicals, No Pectin
Informazioni aggiuntive
La descrizione della pera angelica tradotta da Oriana Por ri ci fa capire l'importanza del recupero di questo frutto dimenticato:"Il Pero Angelico è una delle varietà più preziose del suolo Italiano.[…] Il frutto è oblongo, tondeggiante sulla corona, poi rilevato irregolarmente, e degradate in seguito in un collo, che gli dà la vera forma della pera. La sua buccia è giallognola nella maturità, ma sfumata di un rosso vinoso, che nel lato del Sole si spiega in tante macchiette rotonde punteggiate di grigio, che risaltano singolarmente, e che la distinguono da tutte le altre pere conosciute. La polpa è bianca, gentile, butirrosa insieme e croccante, e piena d'un sugo abbondante e saporito, che la rende graziosa, e la fa gareggiare colle pere più squisite." Pyra Angela. Aldrov. Dendr. pag. 388. Pera Angelica. Quadri di frutti della Real Villa di Castello. Si.Gi. è promotore e membro del "Consorzio di Valorizzazione della Pera Angelica di Serrungarina".